Cannock U16s at National Finals
Posted by Nobody on 27 January 2017
Cannock Under 16 Boys
National Finals, Aldersley Village, Wolverhampton
Saturday 21 January & Sunday 22 January 2017
Having qualified from the Midlands Finals to appear on the National Stage, Cannock prepared well with the coaching team, having the benefit of Louie Morris (Lead coach) assisted by his brother Tom, U18 Coach Callum Stacey and even the 1st Team coach Gary Stacey.
Nobody could doubt the club for its support or commitment. The Saturday arrived and due to the locality of the finals had a 'home' feel about it after seeing which clubs were represented from other regions of the country covering both boys and girls in this age group.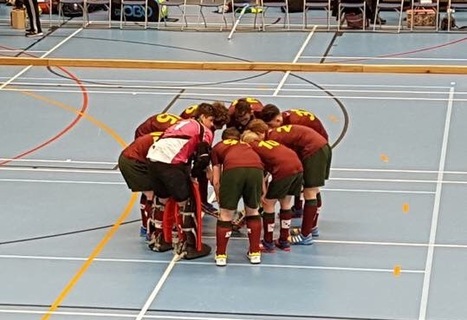 Game 1 versus Bowdon HC
The boys started tentatively with good structure but with some well expected nerves. The score went back and forth to get to 2-2 – Cannock playing catch up each time. The second half we had settled and started playing with confidence and then scored two fine goals to lead 4-2. Unfortunately as with all ball sports it seems when you don't finish a side off when you're on top, you become vulnerable. Bowdon scored and the pressure was on with little time left.  Cannock should have been out of sight!
The pendulum had swung and the noise increased!
Approaching the final whistle Bowdon won a short corner. It was dragged wide by a metre – but the officials gave it as a goal and despite remonstrations and trying to lodge an appeal after the game the result stood – 4-4. One point instead of 3. Critical.
Game 2 versus Old Loughtonians
The boys played well and dominated throughout the game. A 2-0 win did not reflect their dominance but was testament to a really resilient Old Loughts side that never gave up whilst not massively threatening.
Game 3 versus Ashmoor HC
The way the other results were going meant we could have potentially qualified for the semi- finals with a good win. Unfortunately again the occasion played it's part and the game was lost 2-1 disappointingly. It was a good game but conceding late to another dubious goal. We still had enough chances to win the game, but just weren't finishing as we should. Ashmoor seized their opportunity at the death; the margins are tight in these games that show the speed and intensity can outwit all that are watching!
Game 4 versus Guildford
A must win game and we had to win by 3 clear goals considering how the other pool games results had panned out.
Guildford had already qualified and had the luxury of rotating their squad and resting some players in readiness for their semi-final.
We conceded early which whilst disappointing wasn't the end. We could still win 4-1 and go through.
The game was tense and physical and Guildford did everything to stop us playing free flowing hockey. Ironically it was probably the game we played best in terms of structure and combining as a team unit.
Alas we could only get a 2-2 result which meant we didn't make the semis.
Whilst this was disappointing, Guildford were humbled by Repton HC (who Cannock lost out to in the Midlands Final – but had beaten in the qualifying pool stages), and Bowdon faced their comeuppance at the hands of Surbiton HC the eventual and deserved winners (4-0 in the final versus Repton HC).
The final was a true reflection of the form teams over the weekend – whilst we were disappointed not to have made the semis (mostly due to circumstances beyond our control!) we really didn't provide the consistency required to progress and gain momentum with a winning mentality. We simply didn't score enough goals and in indoor hockey this can punish you. It did.
There were notable performances from Duncan Gladwin and Conrad Willars with crucial, technically well executed goals. Goal scoring contributions from Lewis Michael and Luke Stacey, and great commitment and support shown by Joe Norwood, Harry Michael, Cameron Horn, George Jandu.
Our player of the weekend was undoubtedly our guest goalkeeper Oliver Tubb. Great composure, great control and a tower of strength for the boys in every game ! We thank him and his parents for committing to Cannock HC for training and playing in the Regionals and Nationals with such ability and gusto!